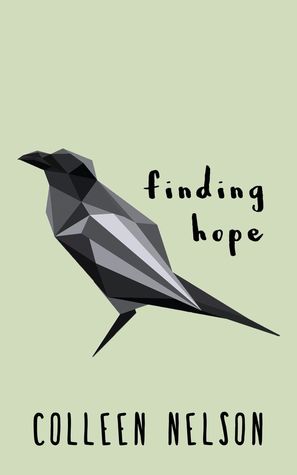 Title: Finding Hope
Author: Colleen Nelson
Date Published: March 19, 2016
Genre: Young Adult & Contemporary
Rating: ★★★☆☆ ((2.5))
Recommend?: Not really
Goodreads Synopsis:

Hope leaves her small town for a fresh start, but her plans are derailed by an online romance and the appearance of her brother.

Hope lives in a small town with nothing to do and nowhere to go. With a drug addict for a brother, she focuses on the only thing that keeps her sane, writing poetry. To escape, she jumps at the chance to attend Ravenhurst Academy as a boarding student. She'll even put up with the clique-ish Ravens if it means making a fresh start.

At first, Ravenhurst is better than Hope could have dreamed. She has a boyfriend and a cool roommate, and she might finally have found a place she can fit in. But can she trust her online boyfriend? And what can she do after her brother shows up at the school gates, desperate for help, and the Ravens turn on her? Trapped and unsure, Hope realizes that if she wants to save her brother, she has to save herself first.
---
Review:
*I was provided with an eARC of this book by NetGalley so that I could give an honest review*
I was really pumped up when I received a copy of this book. I thought that it would be a good read because I'm a fan of contemporary novels but it's just ehhh.
I didn't really enjoy reading this book. It's about a girl named Hope, her struggles at college and  how she encountered it. It's also about Hope's brother, Eric. The book started off good, it showed a hint of the world out there. People you trust could betray you, things wouldn't always go the way you want it to and you should accept that.
Finding Hope thought me some lessons about life but there are things that are off about this book. I didn't like the characters. Eric is a drug addict who ran away from home, I find the things he do really stupid like okay I get something bad happened but why would you do that? I was also a bit annoyed with Hope, it was obvious that they're about to do something bad to her and she still befriended them? Another thing I didn't like is how the story got sort of boring and predictable. It was pretty obvious that her "boyfriend" doesn't exist but she still kept on talking to him!
It's not really the book for me but maybe others would like it. So I sort of recommend it? Though you should have an open mind and you should really exert some effort into reading it 😦
---
Have you read this book? If you have then feel free to comment down below your opinions about it! 🙂